intro
Mouchette.org
(1996) is the fictional, personal online diary of a 13-year-old girl focused on suicide, loneliness, death, and violence, with frequent sexual overtones. Martine Neddam's role as the creator behind the character of Mouchette remained a secret until her presence was officially revealed in 2010. The work is loosely based on the 1937 book
Nouvelle Histoire de Mouchette
by Georges Bernanos and the 1967 movie
Mouchette
from Robert Bresson, following similar themes, namely that of death and suicide.
Upon visiting
Mouchette.org
, the viewer lands on a rather innocuous homepage showing a background image of a flower with a drop of blood (which changes with every refresh), scurrying ants, a buzzing fly, a photograph of a girl, and text stating her name is Mouchette, she's 13, lives in Amsterdam, and is an artist. From there, the viewer enters what feels to be an open-ended and complex labyrinth of various pages, secret links, and interactive web form sections, leading to numerous dead ends and different possible paths to take through the site, with content that continues to speak to Mouchette's fascination with death, violence, and suicide. The interactive component of the site largely comes from pages that pose questions and provide web forms for response, such as the "Suicide Kit" page that asks viewers "What is the best way to kill yourself when you're under 13?" or  the "Flesh&Blood" page that questions whether the viewer "Want[s] to know what my tongue tastes like? Try it on your screen and tell me". Once a viewer fills in their name and email details, and their answer, they'll receive an email from Mouchette, possibly days or weeks later, which might inform them that their answer to the question now appears on the site.
Audio is of particular importance to the artwork, often signalling the change to a different page with the sound of a yawn, a scream, or something more sexual; or a song or soundtrack that's specific to the often confusing content of a page.
Since its beginnings as an interactive website in 1996,
Mouchette.org
has continued to grow and evolve within the mouchette.org domain as well as into a number of digital and offline works that exist across various domains and subdomains. In addition the project has also been extended into a more physical sphere with offline presentations, projects, and objects being created, which together make up the entire landscape of the
Mouchette.org
project.
biography artist
Martine Neddam is a visual artist best known for her works that explore online identity through the creation of virtual characters. She has developed a number of significant virtual characters, namely
Mouchette.org
(1996),
David Still
(2001), and
XiaoQian
(2006), for which her position as an artist behind them was initially anonymous. She does this to be able to explore the multi-layered and complex expressions and experiences of, and reactions to, personalities found online. In addition to these characters she has also continued to investigate online identity through works such as
virtualperson.net
, which is a shared interface, and
MyDesktopLife
, a kind of personal visual narrative style browser-based software.
Martine Neddam is also a teacher at the Gerrit Rietveld Academie in Amsterdam and regularly teaches at the University of Quebec in Montreal in the Visual and Media Arts department.
keywords
net art, net.art, internet art, interactive, website, virtual character, persona, dentity, gender, online diary, personal website, performance, suicide, death, sex
images
[caption id="attachment_408" align="alignnone" width="640"]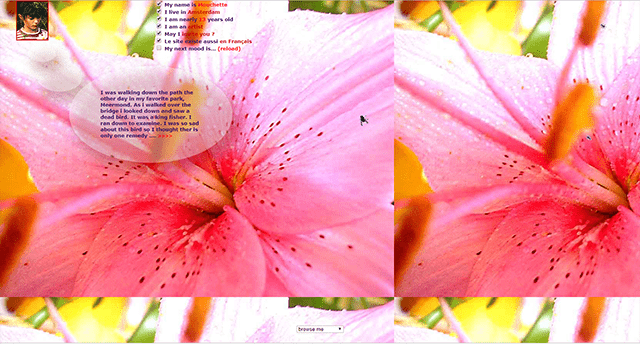 © Martine Neddam, Mouchette.org, 1996-ongoing c/o Pictoright Amsterdam 2019[/caption]
premiere
The work was initially presented online in 1996.
The first public appearance of Mouchette was at the Triple X Festival in Amsterdam in 1997. However, Paul Vallentgoed, a poet agent, was sent in her place, as her representative—an act of performance in itself and an effort to maintain the anonymous identity of the project's creator. Neddam did this a number of times, sending different people to represent or stand in for Mouchette at live events.
software
Many of the original pages of
Mouchette.org
were written in HTML.
In 1998, Neddam commissioned an interface in PHP to be built and through 2001 it was updated using Flash, PHP, and Javascript. A MySQL database was also built to manage the email system employed throughout the work for user engagement.
Each page that offers user interaction within the project has its own database manager with a custom interface, and were made at different times over the work's life. These are used to moderate/edit the content of the posts that users submit, and to publish them or not.
These interfaces have been developed between 1999 and 2004 as simple custom interfaces without CMS.
The work itself includes:
A number of domain names and subdomains
HTML coded content
A content operation system
Interface for user interaction
Database for user data
functionality
The artwork is presented as a personal online diary that functions as an interactive website. After landing on the
Mouchette.org
homepage, the user is able to navigate and explore the complex and disorienting structure of pages where, at different instances, they are able to submit their email, name, and responses to different requests or questions made by 'Mouchette' on the site. Martine Neddam as Mouchette then reviews these submissions and decides whether or not to publish them. When content a user submits is published, they receive an email from Mouchette. The site also makes use of audio on different pages.
part of collection
Stedelijk Museum Amsterdam & MOTI (collective purchase) - 2016
production
Since its inception as an interactive website in 1996,
Mouchette.org
has continued to grow and evolve into many digital works that exist across various domains and subdomains. There are also extensions of the project that are not browser-based and/or exist as offline presentations, projects, and objects, all of which make up the constellation of items and activities that are part of the overall project of Mouchette.
Mouchette originally existed on internet provider xs4all at the web address
http://www.xs4all.nl/~mouche
. In 1999 it was moved to
www.mouchette.org
.
hardware
As an online artwork, engagement with the work takes place on whatever computer device the user employs.
technical specs
Mouchette.org
is an interactive website that, in its current 2018 state, employs Flash, PHP, Javascript, and a MySQL database for email management.
intention artistquote by artist
quote
"Mouchette was about creating a form. When I started Mouchette I wanted to use the notion of a character as something that transcends media, I saw the character as something that can be used as a form, or a container, this allowed me to gather and structure information. I have always believed that a character, a person or an identity is a good metaphor. They can assume the identity of an institution without actually existing. In this sense, I see characters as containers that carry units of meaning.

I was very interested in exploring that idea. At its base, Mouchette shows that identity is a social, mental, or artistic construction. It's something that you put together. The idea that identity is one thing, 'Me is one,' is also an illusion, or a very totalitarian obligation."1

"Secrecy was a very important part of the work; it really called on the imagination of the reader, the websurfer. While designing the work I kept wondering if the receiver would guess or imagine who was behind the character. For example, I could pretend that Mouchette was a man, but how then could I play out the sexual elements without them becoming perverted? I really emphasised the secrecy and the moments of revelation. I would send a phantom e-mail and pretend that the real author had to reveal his identity and therefore I would name an actual place, a well-known art institution, for example, so that people would believe it."2

influence
Mouchette.org
is based loosely on the 1937 book
Nouvelle Histoire de Mouchette
by Georges Bernanos and the 1967 movie
Mouchette
from Robert Bresson. In both stories, a young teenager by the name of Mouchette has a difficult life—facing rejection, rape, and her mother's death—leaving her demoralized and resulting it what is assumed to be her suicide.
Through her exploration of performing and manipulating identity, Martine Neddam's
Mouchette.org
has been compared to the work of Lynn Hershman and Cindy Sherman.
LITERATURE
Connor, Michael. "A Girl Made of Language: Martine Neddam's Mouchette."
Rhizome
, 12 Dec. 2016,
rhizome.org
.
Dekker, Annet.
Collecting and Conserving Net Art: Moving beyond Conventional Methods
. Routledge, 2018.
about.mouchette.org
 (pdf).
Dekker, Annet. "How to Be Pink and Conceptual at the Same Time: Annet Dekker in Conversation with Martine Neddam."
Because I'm an Artist Too
. edited by Annet Dekker and Martine Neddam, SKOR Foundation for Art and Public Domain, 2011, pp.22–5.
aaaan.net
.
Dekker, Annet. "In Search of the Unexpected. Martine Neddam in Conversation with Annet Dekker."
Navigating e-Culture
, edited by Annet Dekker and Cathy Brickwood, Virtueel Platform, 2009, pp. 65–73.
monoskop.org
 (pdf).
"Mouchette."
NET ART ANTHOLOGY
,
anthology.rhizome.org/mouchette.
Warren-Crow, Heather.
Girlhood and the Plastic Image
. Dartmouth College Press, 2014.
part of active discussion
scene artists institutes
Martine Neddam sees her practice as one that finds connections to Art Brut and certain kinds of poetry such as the work of Fernando Pessoa, or connecting to other forms or work in her practice such as those involving theater and art in public space.
footnote
1 Annet Dekker, "How to Be Pink and Conceptual at the Same Time: Annet Dekker in Conversation with Martine Neddam." Because I'm an Artist Too. edited by Annet Dekker and Martine Neddam, SKOR Foundation for Art and Public Domain, 2011, pp.22–5. aaaan.net.
2 Annet Dekker, "How to Be Pink and Conceptual at the Same Time: Annet Dekker 
in Conversation with Martine Neddam."

Because I'm an Artist Too

. edited by Annet Dekker and Martine Neddam, SKOR Foundation for Art and Public Domain, 2011, pp.22–5.

aaaan.net

.